Jesus emphasized eternal rewards more than any other teacher in the Bible. This course is an eight-session study of the different types of eternal rewards described in the Scripture and how a believer can live so as to receive them by the grace of God. This course will cover a vast array of verses on this vital topic that is neglected by far too many in the Body of Christ today.
In this course you will receive...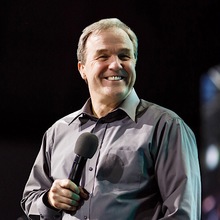 Mike Bickle
Director, IHOPKC; President, IHOPU
Mike Bickle is the director of the International House of Prayer, an evangelical missions organization based on 24/7 prayer with worship. He is also the founder and president of the International House of Prayer University, which includes full-time ministry, music, and media schools.Mike is the author of several books, including Growing in Prayer, Passion for Jesus, Growing in the Prophetic, The Pleasures of Loving God, After God's Own Heart, and Prayers to Strengthen Your Inner Man. Mike's teaching emphasizes growing in passion for Jesus through intimacy with God, doing evangelism and missions work from the place of night-and-day prayer, and the end times. Mike and his wife, Diane, have two married sons and six grandchildren.
1

Welcome and Course Introduction

Course Introduction: Mike Bickle

Course Syllabus and Overview

Survey: What are you most wanting to get out of this course?

2

Video 1: Introducing the Judgment Seat and Eternal Rewards

3

Video 2: Understanding Eternal Rewards—Biblical Principles (Part 1)

4

Understanding Eternal Rewards—Biblical Principles (Part 2)

5

Heavenly Garments: Glorious, Beautiful, and Diverse

6

Reigning on the Earth in the Age to Come

7

Heavenly Crowns: Victory, Honor, and Authority

8

Divine Affirmation, Memorials, and Communion with God

9

Pillars, Manna, Vindication, and Treasure in Heaven

10

Rewarded for Being Faithful in Small Things (Mt. 25)

Building Upon the Foundation: Living a Life that Matters (Stuart Greaves)

Eternal Rewards: The Faithful, the Unfaithful, and the Foes (Isaac Bennett)